A few weeks ago, I bought a size M/L cotton fleece kissaluvs fitted diaper from Jack Be Natural for 14.95$.
I chose the natural, unbleached color because I had a gift certificate for 15$ and the colors are 1$ more ;)
They shipped the day after I placed my order (free shipping, I might add) and I received it a few days later.
Jack Be Natural shipped my diaper in eco-friendly packaging, which was a bonus.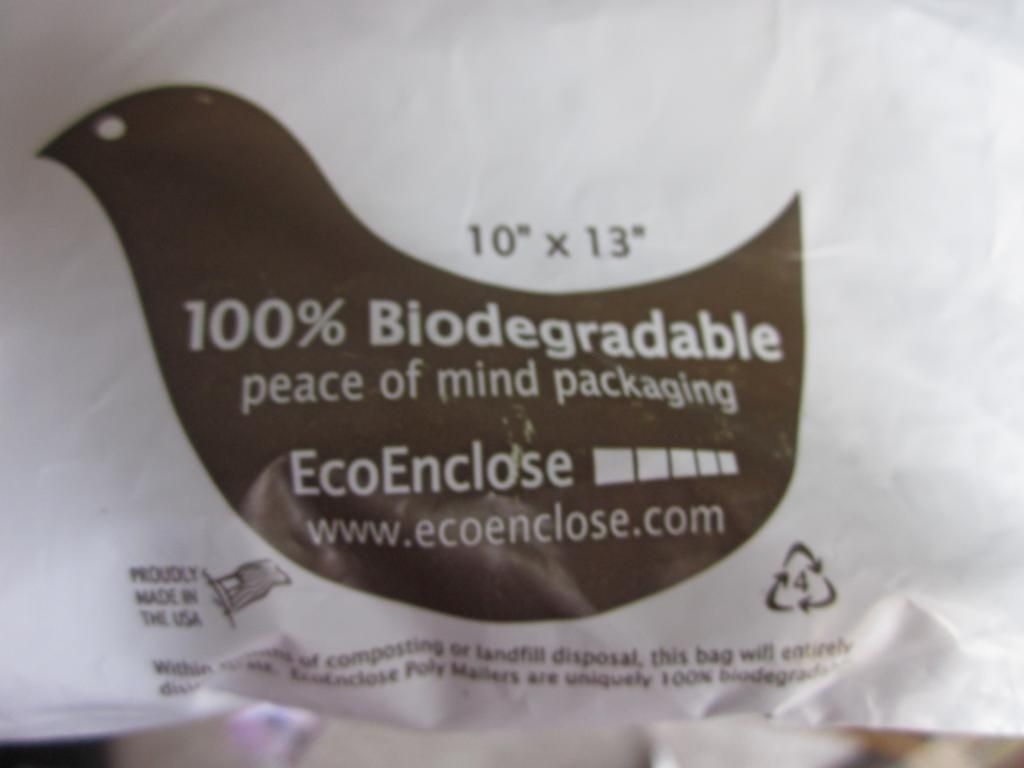 The packing is also re-usable!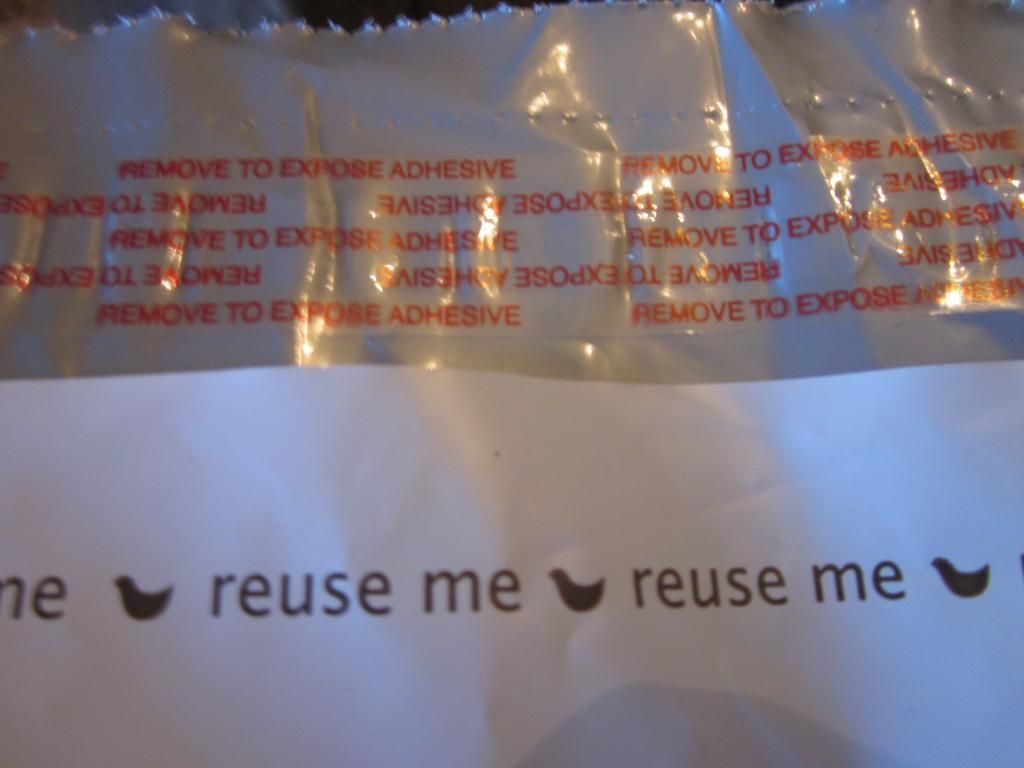 Major plus.
My diaper came stuffed into this cute little re-usable bag called a Jack's Napsack.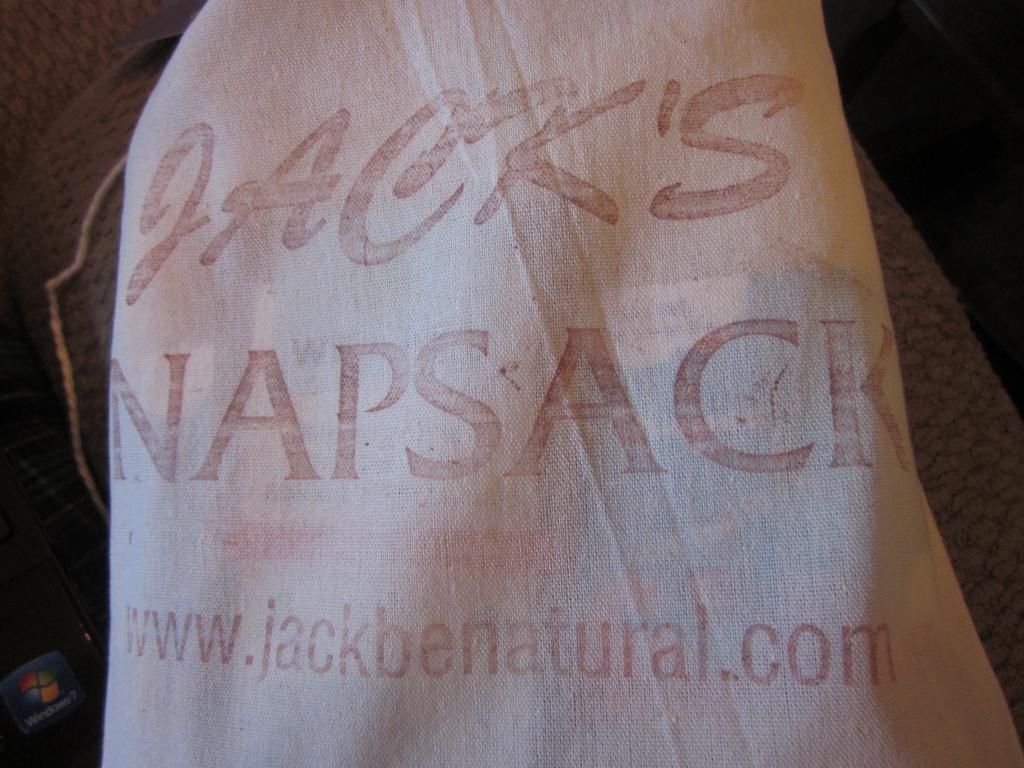 I'm not sure what I'll use this for, but I'll find something.
It has a drawstring, so there are lots of possibilities.
Inside the Napsack, along with my diaper and a sample of Country Clean laundry detergent(which I will not be reviewing at this time) was this hand-written thank you note.
It really added a personal touch, which I love.
This is the kind of thing you get from owners who love their business.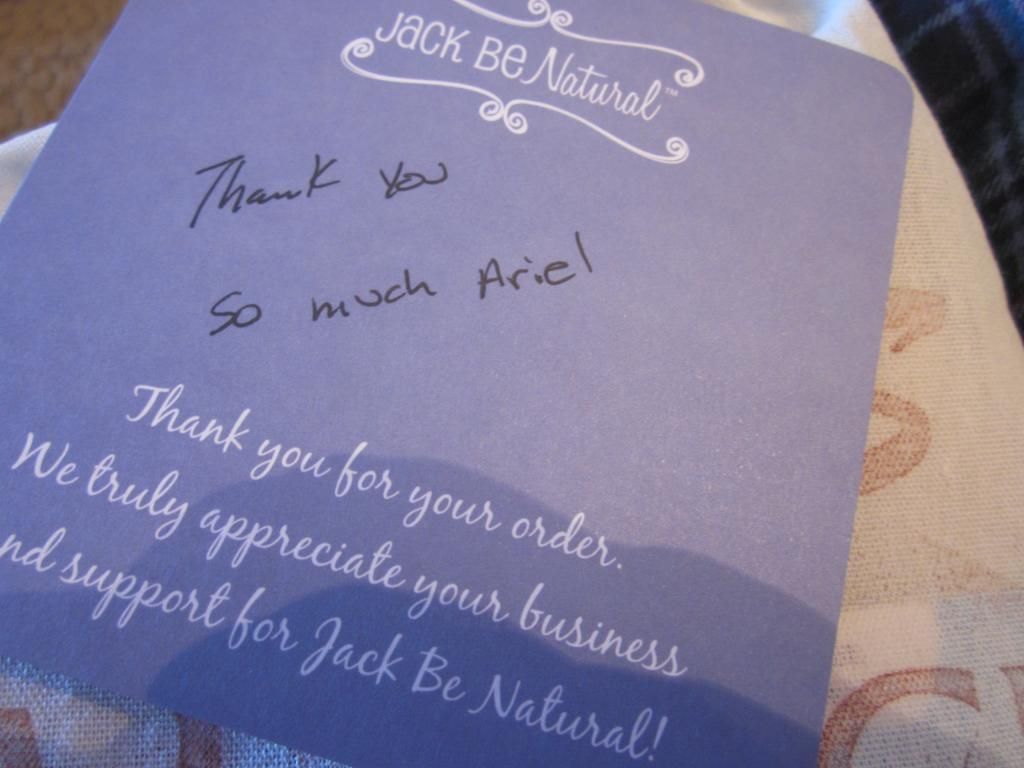 And finally, here's my brand-new fitted diaper.
Yay!
It was pretty soft.
Maybe it's because I bought the unbleached version, but my other cotton fleece diapers felt a little rougher, even right out of the packing.
Now lets get to the facts.
This diaper fits from 15-40 pounds, has a fold-down rise, a single row of snaps, and a sewn-in soaker.
It is available in several colors as well as natural/unbleached.
I've never bought a diaper with a sewn in soaker OR a fold-down rise before, so this was a new experience for me.
I took lots of pictures, because that's what I do when I experience something new.
This is the inside of the diaper, showing the sewn-in soaker.
*baby hands not included*
Honestly, the inside and outside of the diaper look almost exactly the same. When I put it on Midge for the first time, I actually put it on inside out, oops. So here's a little tip. The tag goes on the OUTSIDE of the diaper ;)
A fold-down rise is a pretty simple concept.
There is one row of snaps, usable on either side.
If you want to shorten the rise, you simply fold the snaps down outward, and use as normal.
Here are the snaps from the outside of the diaper: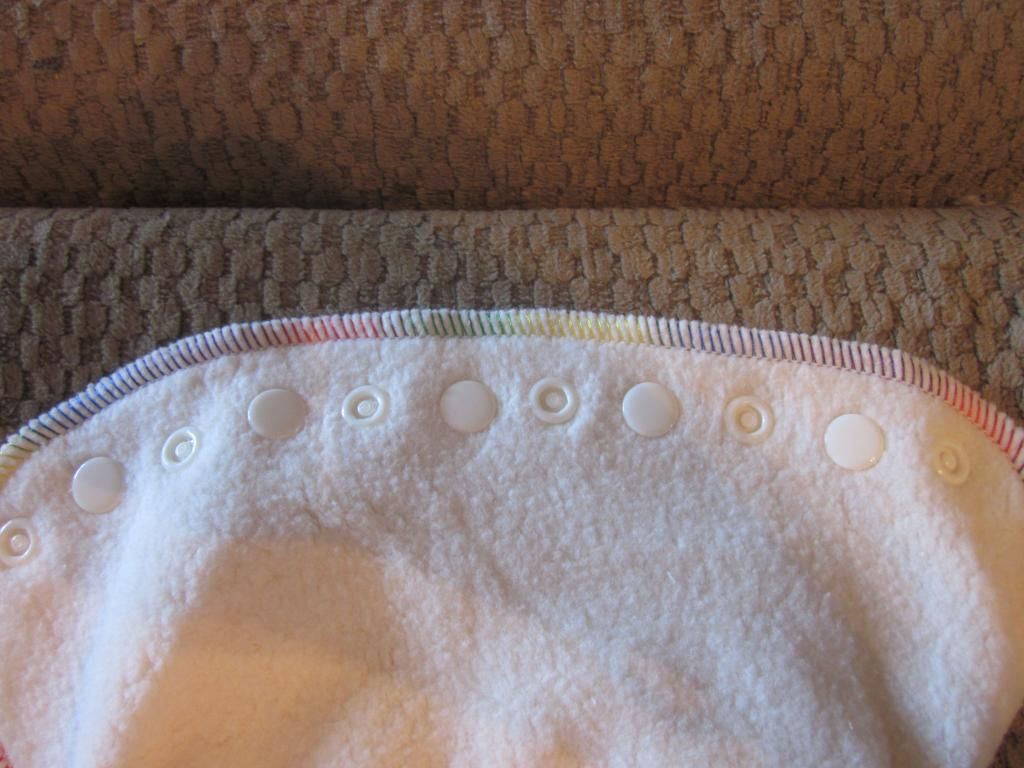 And here they are with the rise folded down outward.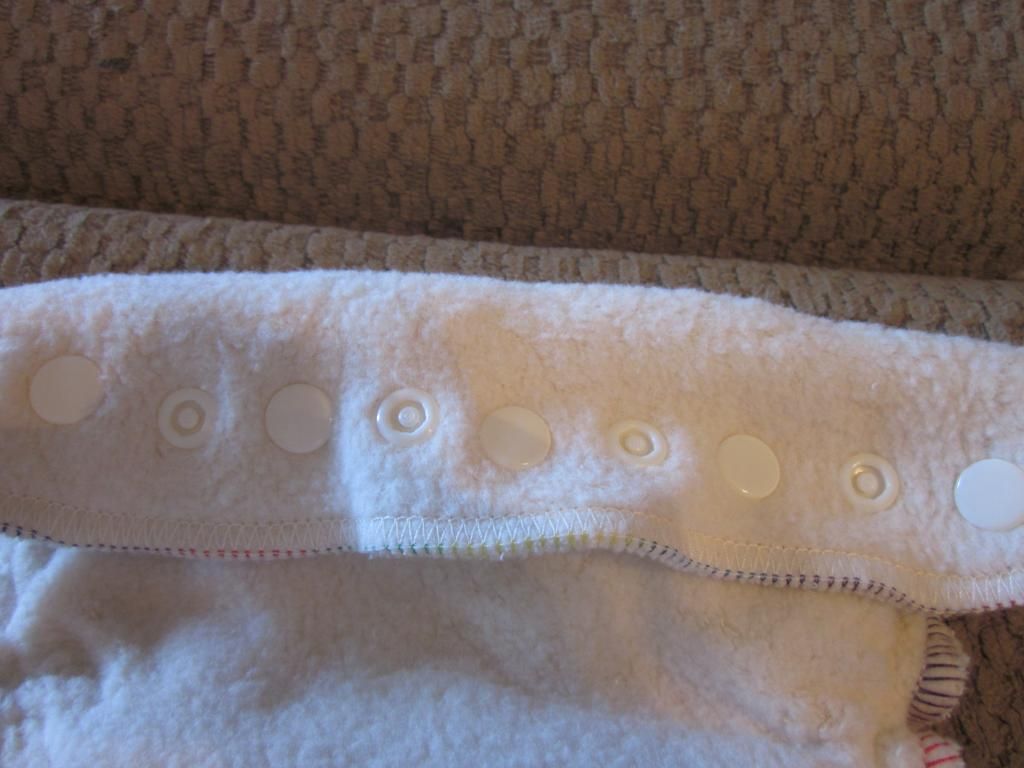 I want to take a moment to talk about the serging. Lets look up at the last two pictures. On the outside of the diaper, the surging is rainbow-colored. On the inside, it's whiteish/cream. I prefer the cream serging. Unfortunately, you don't get a choice in the color of the serging :( The size 0 fitted (newborn size, from 5 to 15 pounds) comes with light brown serging, which is much more appealing on an unbleached, natural colored fitted. This is really my only complaint on the aesthetic appeal of the diaper.
I measured the diaper here, before I washed it.
Unstretched and unfolded, it measured about 14 inches. These are rough measurements, so don't hold me to that.
Unstretched with the rise folded down, it measures about 12.5 inches.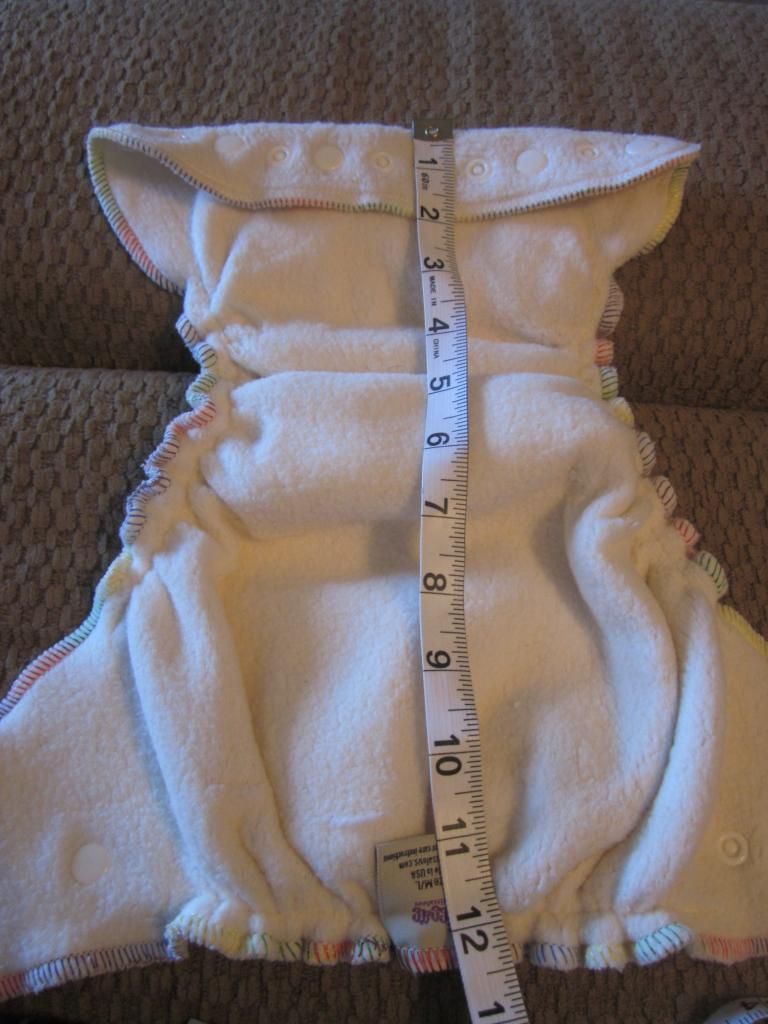 Because the diaper is 90% cotton, I expected it to shrink a little after the recommended three hot washes to prep the diaper. It didn't seem to shrink much at all, maybe 1/4 inch, though it might shrink more over time.
So far, my daughter has worn this diaper twice, so I'll update in a few months on how they hold up. I'd say I'm a fan of using this as an overnight diaper. The first time I put my baby in this was for night time. This is a real test. Midge is an average wetter, and was able to wear this diaper all night in a Flip cover, and there wasn't a leak in sight. Woohoo!
The second time Midge wore her kissa was around the house with no cover. To make a long story short, it did not work. This diaper was extremely large and bulky, even with the rise folded down. I even tried folding in the serging, as suggested by the kissaluvs website, and it didn't help one bit. She didn't even get the chance to use the diaper, because it fell right off after about fifteen minutes. I tried desperately to take some pictures, but they obviously are not of high quality, due to my daughter being a jumping bean. I did manage to get a few shots. They sure aren't pretty, but they give you an idea of the fit.
This is what our kissaluv looked like when I put it on Midge. Not bad, right? This is what it looked like when Midge wore it overnight, held in place by the cover.
Here's a quick shot of the fit around the legs. It started off fitting just fine. Not too snug, but also not gapping.
An action shot. Saggy between the legs, but still hangin' in there.
Here's a better picture of some adorable baby feet and the sag in the middle of the diaper. There is quite a bit of access material here, which was great for overnight but not so great for during the day.
The rise, even folded down, is quite generous. I don't have any doubts this is going to fit Midge until she potty trains.
But, sadly, it didn't stay on her that well for long. Here it is, barely hanging on.
I attempted to adjust the fit, but it didn't help :/ Midge just isn't shaped right to wear this coverless.
To sum things up, I won't be using this around the house without a cover. To be fair, my daughter IS on the lower end of the weight range, and she's skinny. I don't think this diaper would fall off a heavier or larger baby the way it did with Midge. It wasn't great for around the house, but it was wonderful for overnight. If I could go back in time and have the choice to either buy this diaper or leave it, I'd still buy it. I'm hoping she'll grow into it in a few months and will be able to wear it around the house, so look for an update!
And now, to the GIVEAWAY! This is Blogs From a Single Mom's first giveaway, woo! Who wants to win a 15$ giftcard to Jack Be Natural? JBN is a wonderful online store chuck full of natural parenting items. They sell cloth diapers, organic baby foods, amber necklaces, toys, and more. They offer free shipping (exclusions may apply), free samples, and quick shipping. The store owners, Stacy and John, are wonderfully kind and helpful. If you haven't checked out Jack Be Natural yet, you can do it
HERE
.
This giveaway is open to the United States and Canada. The winner will be notified by email and will have 48 hours to respond. Entries are verified! This giveaway will be open for three weeks. Good luck!
a Rafflecopter giveaway
I am not responsible for the fulfillment of prizes. I have not been compensated for this review in any way. All opinions are my own. Giveaway sponsored by Jack Be Natural.