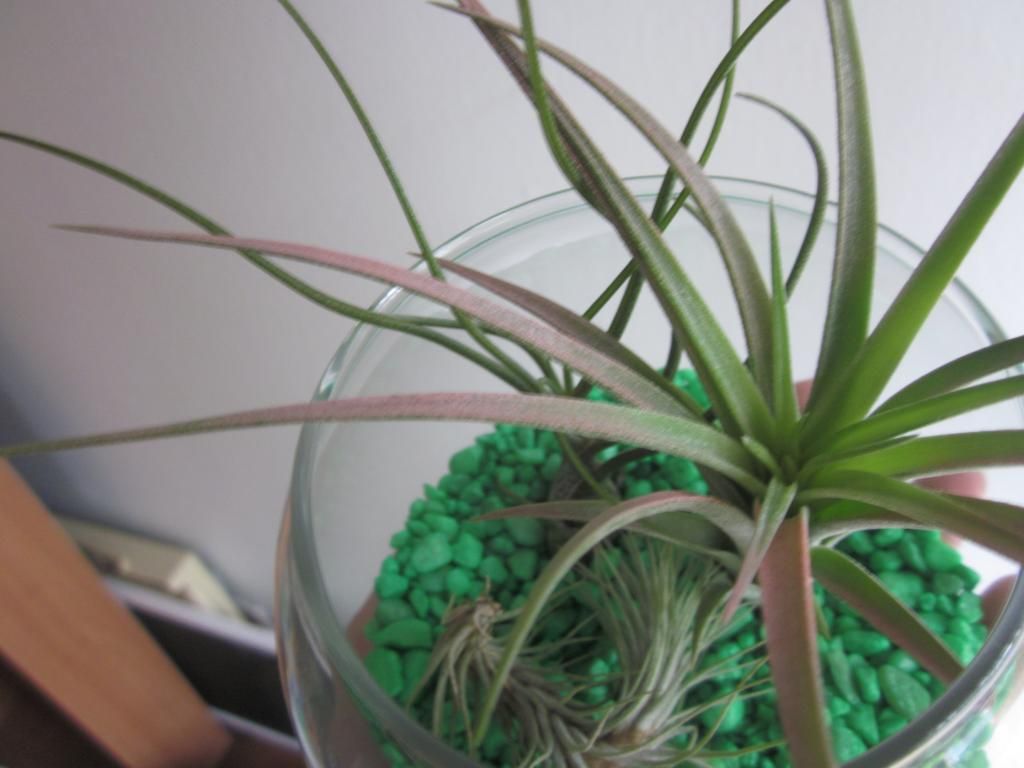 Disclaimer: I received one or more free products to review. I was not compensated in any other way for this post. I was not required to post a positive review and all opinions expressed are my own.
Recently, I did a post on
decorating with air plants.
There are tons of fun, creative ways to display them around your home because they do not need to be put in dirt. Now that you've realized how beautiful air plants can be, you're probably wondering where you can buy them.
I was sent 11 tillandsias to review from The Air Plant shop. The Ionontha Collection, consisting of 10 plants, and 1 Funkiana. The
Ionantha Collection
is a collection of 10 Ionantha tillandsias, selected from 14 or 15 different varieties. These plants seem to be closely related(perhaps all growing in the same area?) are some appear very similar. However, I think this is a good collection for a beginner or someone who wants a lot of variety at a low price. There is a good mix of thick and thin leaved plants and a good mix of sizes. I was sent the Ionantha Druid, Mexican, Peanut, Rubra, Fuego, Rosita, Hybrid, Fire of Tinco, Guetamalin, and Victoriana. Each individual plant was wrapped in bright colored tissue paper and put together in a box. They were packed well (it didn't look like they had been bouncing around at all) and the presentation was gorgeous. It reminded me of a basket of Easter eggs.
I unwrapped each plant and was happy with what I saw every time. Each plant was labeled on the outside of the tissue paper, so there wasn't any confusion. (For size reference, the label is about the same size for each plant.)
One of my plants was even sent to me in bloom! Amazingly, the flower was not damaged at all.
When in bloom, most tillandsias will change color, often to pink or red, and the leaves will curl down away from the flower.
A few other plants were starting to gain a little bit of color, signaling that they will be blooming soon as well.
See the tiny bit of pink in the center? That's the flower starting to grow!
None of the plants were damaged in shipping! If you've ever ordered plants online, you can understand the nervous feeling you get when opening a box of plants. Poor packing will almost certainly mean dead or damaged plants await you. Thankfully, none of my air plants were damaged during transit due to good packing. A few seemed to be sulking from lack of light, but you would probably be a little sad if you were stuffed in a box for several days, too.
Overall, all of the plants arrived in great condition. They were wrapped well so that none of them got crushed or broken or bent, even with the rough handling of the USPS. Each plant was labeled so I knew exactly what it was. I think it was great that some plants were sent blooming or almost blooming, but some were not. That means that I'll get to enjoy some flowers right away, then more in the future. I was really pleased with the variety in the Ionantha collection, as well as the amazing cuteness of my bonus Funkiana. My box from the Air Plant Shop also included a care sheet, which is great! I think all plants should come with a care sheet. I'll highlight some important care facts for you.
Never put an air plant in dirt. They're called 'air plants' for a reason, and that reason is that dirt will kill them.
Use rain water, filtered tap water, or bottled water (not distilled water) to water your air plants about once a week, sometimes more depending on your climate. Just dip them in water and let them soak for about half an hour, then lay them where they will received enough sun and air to dry in 4 hours or less.
Did I mention to never put them in dirt?
Never use copper wire or anything else copper on your air plants. They will die.
If you want to fertilize your air plants, use a very diluted (1/4 recommended strength) fertilizer once a month, preferably one that is low in copper.
Keep your plants in a very sunny place, but out of direct sunlight. They make perfect houseplants! Easy, right?
Air plants bloom only once in their lifetime, but the flowers may last for several days, weeks or sometimes even months. My Ionantha Mexican, which was sent to me in bloom, grew a new flower every two days. Each flower lived about two days before wilting and dying. Sometimes it even had two or three flowers blooming at once! It was beautiful and exciting to watch. After all of the flowers had died, the plant will eventually start 'pupping', or producing baby plants from the base of the mother plant. None of my plants have started doing this yet, but I'm sure it will be fun when they do.
All of my plants from the Air Plant Shop are doing well. I would absolutely order from this website again! They have good prices, a nice selection and beautiful, healthy plants. If you want some of your own tillandsias, you can visit the Air Plant Shop by clicking
here.
And...
One lucky Blogs from a Single Mom reader is going to win his or her own Ionantha Collection of air plants! This giveaway is generously sponsored by the Air Plant Shop and there is no purchase necessary to enter. Open to the US only and you must be 18 years or older to enter.
a Rafflecopter giveaway

Blogs from a Single Mom is not responsible for the fulfillment of prizes. The Parenting Patch, The Median Mommy, Leettle Baby, and Going Green with the Grizls are not responsible for the fulfillment of prizes. Winner will be emailed and will have 48 hours to respond, or another winner will be drawn. Giveaway sponsored by the Air Plant Shop. I received these products free for reviewing purposes and was not compensated for this post in any other way. I was not required to write a positive review and all opinions expressed are my own honest opinions. Facebook, Twitter, Picket Fence and Rafflecopter are in no way affiliated with or responsible for this giveaway.