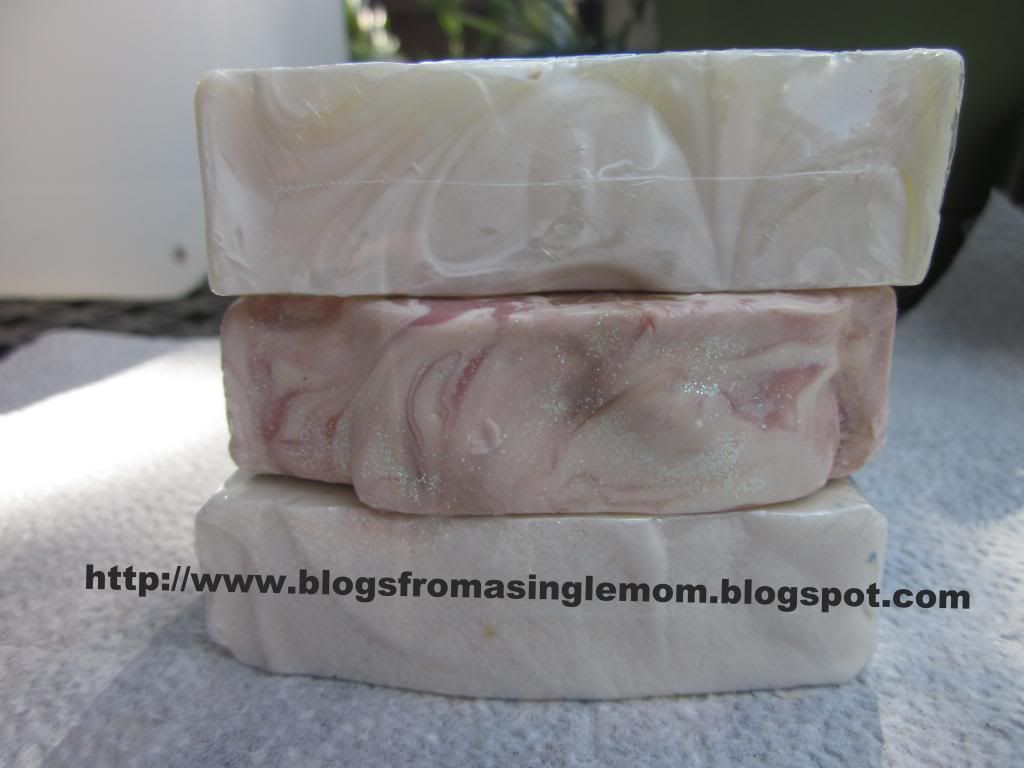 Recently, I have decided to make the switch from commercial soap to handmade soap. Commercial soaps have so many yucky chemicals (like formaldehyde) in them, and because the skin absorbs what is in your soap, I did not want to put them on my body. Many store bought soaps are not even real soap! They are detergents, which are harsh on the skin, and the manufacturers are allowed to hide ingredients if they are labeled as 'body bars' or 'beauty bars'. The bottom line is that I didn't want anything so unnatural being absorbed by my body or washed down my drain.
My search for a homemade soap with gentle ingredients, beautiful options and plenty of variety lead me to
Stargazer Soaps
.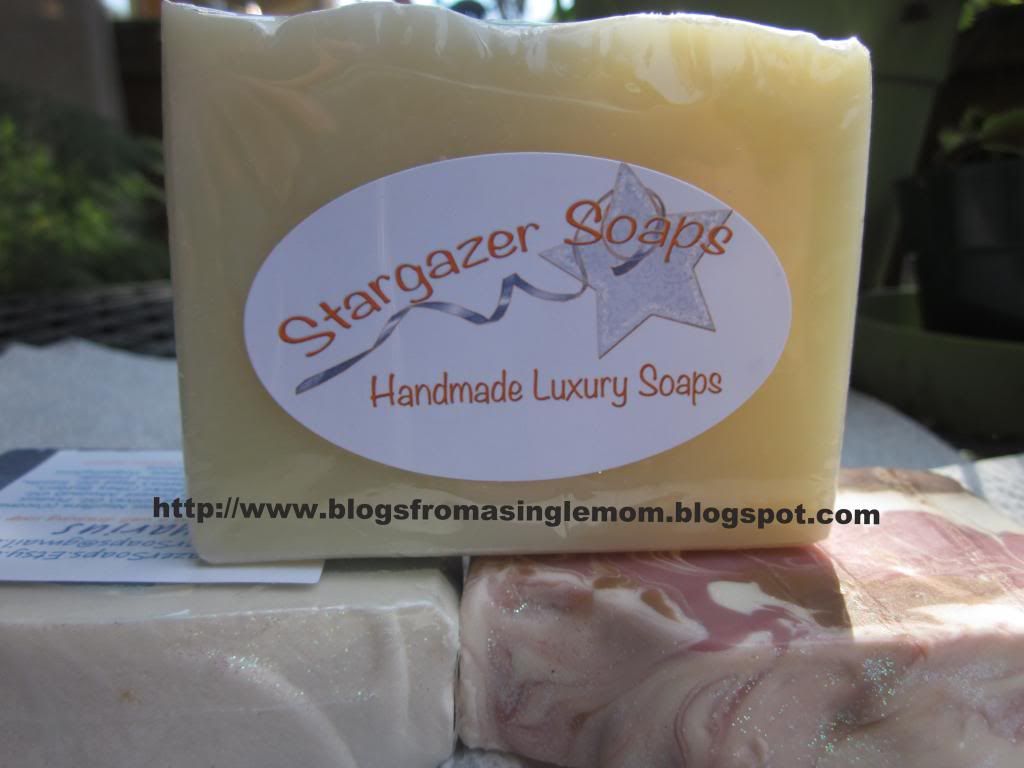 Stargazer Soaps are all handmade, cold-process luxury soaps with no nasty chemicals or detergents.

I was sent three full sized bars of soap to review. Taurus and Aquarius from the Pure Silk line, and Grapefruit, from the Purely Natural line.
I received the above soaps for review. From left to right, they are Purely Natural Grapefruit, Aquarius, and Taurus.
Stargazer Soaps' Pure Silk line differs from the Purely Natural line in that the Silk line contains fragrence oils, cosmetic glitter, synthetic colorants and silk. The Purely Natural line does not contain any of these ingredients. Upon learning about the Pure Silk line, my first thoughts were "WHY would you add silk to soap? How does that even work?" So I asked Nicole, the soaper behind Stargazer Soaps, and she has this to say.
The silk used in Stargazer Soaps Pure Silk line

" The silk comes from silk worms. It is called Tussah Silk. The silk I use is cruelty free. I only buy from a supplier who harvests the silk once the worm has left the cocoon, not harming the worm in any way. It is 100% natural. I use silk in its raw form. There are bleached options available, but in my opinion that defeats the purpose of handmade soap and not using chemicals.
I use just a tiny amount of silk in my soap. A little goes a long way! It completely dissolves and cannot be seen. Silk makes the soap smooth, silky, shiny, and increases lather. It makes the bar more luxurious." -Nicole, Stargazer Soaps
And she sure is right! The silk soaps are absolutely luxurious. They have an excellent smooth, soft feel and are very moisturising in addition to being beautiful and smelling amazing. The Taurus soap is by far my favorite, as far as scent. It smells faintly of chocolate and something else that is just divine. The Aquarius silk soap is wonderful as well. They both have great lather, the creamy kind that spreads well, and do not make the skin feel tight or dry. After a few uses, my skin has even started to feel softer! The cosmetic glitter sprinkles on the top of the soaps does not stick to the body, it simply washes away and is there purely for appearance. Some of the scent, though, does seem to stick around for a while. How much my skin smells after a shower(if at all) seems to very from soap to soap.
I have not noticed a big difference in the feel of the Purely Natural Grapefruit soap vs. the Silk soaps, other than the silk soaps having a more smooth feel. I do certainly prefer the look of the Silk soaps (I mean, look at them! They're beautiful!) but the Purely Natural soaps are still a wonderful choice for anyone who wants to keep their skin away from anything synthetic, such as the colorants and scents in the Silk soaps. I like to use the Grapefruit soap on my daughter (she's 16 months old, so you never know when she's going to try to eat the bar) for a tiny bit of extra safety. I personally would still use the Silk soaps on my baby, if I did not have a Purely Natural bar already in my home. The lather, scent and moisturizing abilities of the Grapefruit bar are still miles above commercial soaps.
In addition to the 3 full-sized bars of soap I received for review, I also received three sample-sized bars. I received a thin slice of Purely Natural Coffee, Rainbow and Orion. Because they were sample-sized, I only used each of them for a short time. There are a few things I would like to say about them. The Pure Silk soaps make excellent hand soaps. They helped my hands feel less dry than usual, keeping in mind that I wash my hands a minimum of 10 times a day, meaning DRY DRY DRY hands! The Coffee did not make a good handsoap. The little bit of real coffee grounds in the Coffee soap were far to abrasive, in my opinion, for my hands. I frequently (read: always) have small cuts on my hands, which the exfoliating coffee soap was way to harsh on. Even had I not had mulilated hands, I still think I wouldn't have like the coffee soap as a hand soap, nor a face soap nor a soap for children. It did, however, make an amazing body soap. It had the perfect amount of exfoliation for bodies, but not for hands. The Coffee soap also did not smell like coffee. It smelled good, like soap, but not like coffee. The Rainbow soap is, visually, one of my favorites. It's beautiful, like all of these soaps are, but also bright and fun and exciting. Not to mention smelling delicious, like the Orion soap. I would recommend both the Orion and Rainbow soaps (I bet kids would love the Rainbow!) for both handsoaps and body soaps. The scents are wonderful, the lathers are great and did I mention the scents are wonderful?
For those of you who don't know much about handmade soaps or have never used them, there are some things you need to know. All bar soaps, ESPECIALLY handmade soaps, should be stored in a well-draining soap dish. They should be kept dry when not in use (don't put them under the shower head where they will be continuously wet during your shower), or they will not last long. In general, handmade soaps do not last as long as commercial soaps. This is because there are no nasty chemicals in them to preserve them. Usually, you can expect to get about 1 week per ounce of soap, per person. So a 5 ounce bar of soap will probably last you about 5 weeks. Another thing you should know about handmade soaps is that each and every bar is unique. You can't expect two bars to ever be exactly the same, even if they are from the same batch or the same mold. There will be individual differences from bar to bar.
Stargazer Soaps are available for purchase HERE. There are many soaps that are ready-to-ship, and also some available for preorder. Soaps range in cost from 4-7$, which may seem a little high but I assure you, they are well worth the cost. Besides, even 7$ a month to wash yourself in something that makes your skin feel this great is very reasonable. Watching Nicole make her soaps on her Youtube Channel (this stuff is addicting, like soap porn) and seeing the amount of work that goes into them makes the price seem like nothing.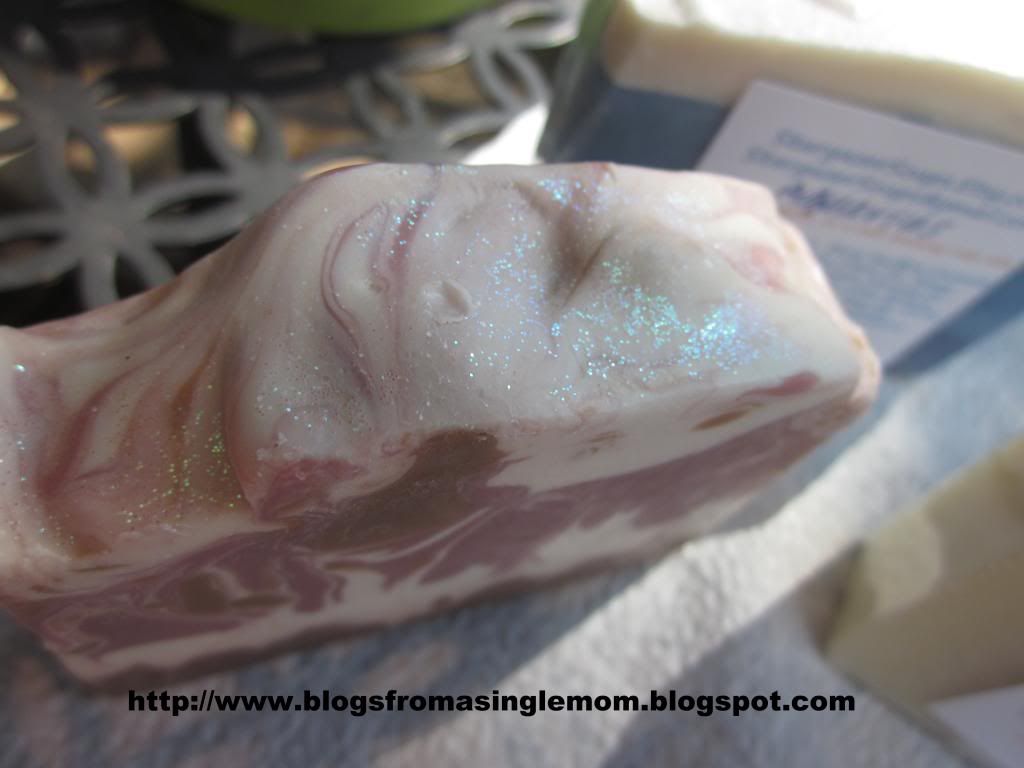 You can also hang around for a few more minutes and enter to WIN 4 beautiful bars of handmade soap!
A special thanks to Stargazer Soaps for sponsoring this giveaway! You can enter to win 4 bars of soap, 2 Pure Silk soaps and 2 Purely Natural soaps (Approximate retail value of 30$!), if you are 18 years or older and live in the USA. There is no purchase necessary to enter. Simply use the Rafflecopter form below to enter, and good luck! Giveaway ends at 11:59 pm CST on October 31st.
Giveaway sponsored by Stargazer Soaps. I was not compensated for this review or giveaway. Facebook, Twiter and Rafflecopter are in no way responsible for nor associated with this giveaway. Blogs from a Single Mom is not responsible for prize fulfillment.